There's nothing quite like a Greek zaharoplasteio, is there? Every time I travel to Greece, it is one of the first stops on my list; the aromas, the choice, the quality just can't be beaten. Which is why I was pleasantly surprised when I happened upon Theo's Greek Cakes.
Tucked away in Keilor Park in Melbourne's north-west, it is the first Greek patisserie I have managed to find in Australia thus far that hits the mark. Think galaktoboureko, koulourakia, politiko, baklava, karidopita, portokalopita, sokolatopita, yo-yo's, almond bread, paximadia, over 10 different types of siropiasta, cakes with a modern twist such as ferrero rocher and nutella – and that's just naming a few – as well frappe and fredocappucino, with Greek music and chatter in the background to complete the experience.
This authenticity is all thanks to husband and wife duo Theologos and Maria from the island of Leros, who relocated to Australia from Greece seven years ago.
Theologos Karanikolas is a trained pastry chef, but his knowledge delves much deeper than the books; in fact some would say it's in his blood. His father was a pâtissier, as was his grandfather and namesake who opened the first zaharoplasteio on Leros.
At 14 years of age, Theologos took a leading role in the family-owned business, and so 27 years later at 38, when the opportunity arose to continue that legacy – albeit on another continent – he jumped at the chance.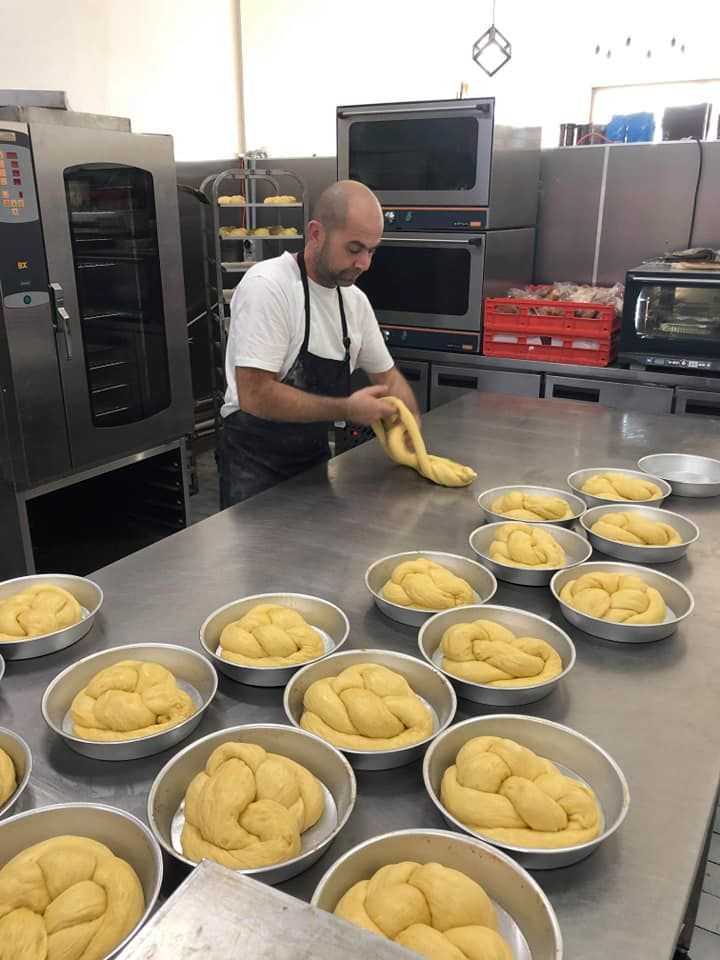 "From the moment I came to Australia I had it in my mind: I wanted a shop of my own. But I couldn't speak English; I couldn't communicate, so I couldn't take the necessary steps. I needed someone to help me."
That's where Con, his "brother from another mother" as he describes him, comes into the picture, who helped guide Theologos in realising his dream.
As part of the plan, he always intended to use his family recipes. But when he set out to make his first test batches on the other side of the world, things weren't turning out as they did back home.
"We first had to find the right ingredients, because the butter is different in Greece and in Australia. Here the milk is lighter than in Greece. So we had to find a balance for a good result, and that counts – that's what makes the difference," says Maria, who is the face of Theo's Greek Cakes, running front of house.
Open just short of eight months, locals have already caught wind, particularly popular with Greeks and Italians, while a significant portion of their clientele travels from all parts of the city, including Geelong.
Theologos and Maria are in total agreement, the success is thanks to the quality, when it comes to the produce they buy right through to the techniques they use.
"To offer a quality product, you have to buy a quality product," says Maria.
"I would rather throw something out if it's not right, than sell it to a customer. I have had batches that don't turn out exactly how I want them, and I throw them away. When it comes to cakes, especially anything with custard, after day two if it's not sold, it goes straight in the bin," assures Theologos.
This commitment to their customers, along with the reality of opening a business in a foreign country with two young children, hasn't been without its challenges, Theologos admits.
"The beginning was difficult, because we didn't know English, but things improved over time and now I can communicate a little. But it's been very tiring because we've done everything on our own," he says.
"The first three or four months, when the kids finished school, they were here; when they had holidays, they were here."
In fact, their 10-year-old daughter Alexandra grew up surrounded by pastries, from just 40 days old.
"My daughter likes it, she knows how to make baklava. Before she turned four she could make tsourekakia," he says, smiling.
Like many who have migrated from Greece in recent years, they miss their homeland, but it is their children who continue to motivate them.
"Life in Greece is more beautiful, but for the kids, it's better here because the way things are in Greece now, there's no future for them."
For those who have yet to visit Theo's Greek Cakes, it is a particularly special time of year to do so with Orthodox Easter fast approaching; there's nothing quite like the smell of tsoureki fresh out of the oven.
a pi
While I am there, Theologos cuts up ece of tsoureki in half and spreads a layer of Nutella on each side to make what is now my favourite kind of sandwich; a perfect combination, the hazelnut chocolate making the orange zest in the tsoureki sing.
Along with the tsoureki, Theologos has had to adapt his Easter offering for the local market.
"In Greece for Easter we have tsoureki and koulouria. But in Australia it's tsoureki, koulouria, melomakarona, kourabiethes – here they eat them all. But all year round! It's different," he laughs.
With so much on offer, if you were to try just a few, Theologos says there's no going past his specialities.
"Galaktoboureko and Ekmek. Oh and the tsoureki – no one makes this type of tsoureki in Australia. I know what I'm doing, and I know what I'm selling. I'm not going to sell something if it doesn't turn out 100 per cent how I want it. That's why everyone is satisfied."
neoskosmos.com